PUBLICATIONS of Capturing Inspiration
Enjoy some recent articles and social media shout credits featuring Capturing Inspiration.
IRISH ECHO: THE OLDEST IRISH AMERICAN NEWSPAPER IN USA, ESTABLISHED IN 1928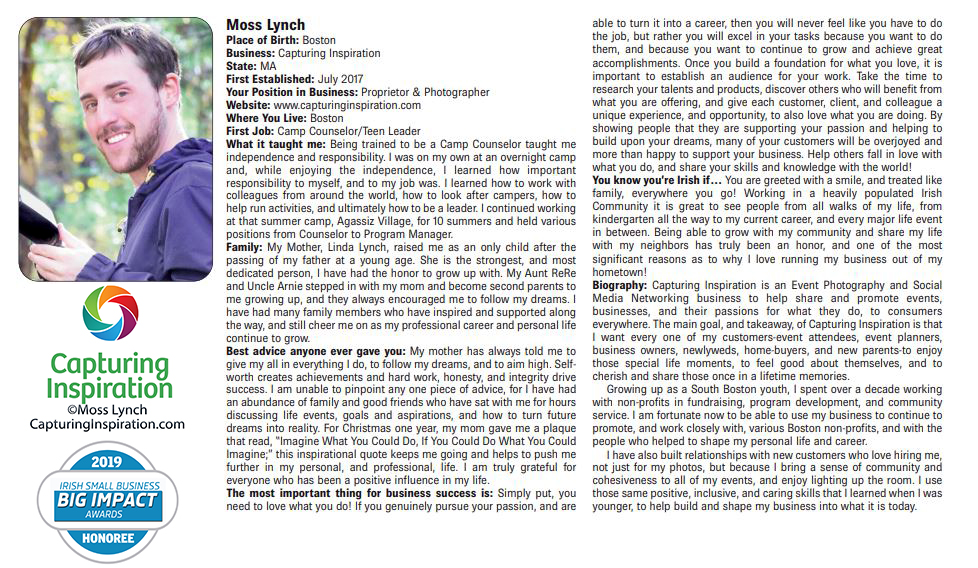 After a decade of doing photography, Capturing Inspiration was nationally recognized at the Irish Echo Boston Gala, receiving the Small Business-Big Impact Award from the Irish Echo.
This National Award recognizes and honors 50 small businesses throughout the United States run by entrepreneurs who care for, and are heavily involved in, their local communities. Thank you to everyone who has supported and believed in Capturing Inspiration, and to those who encouraged perseverance and success!
Boston Voyager Magazine: Local Artists Who Inspire Us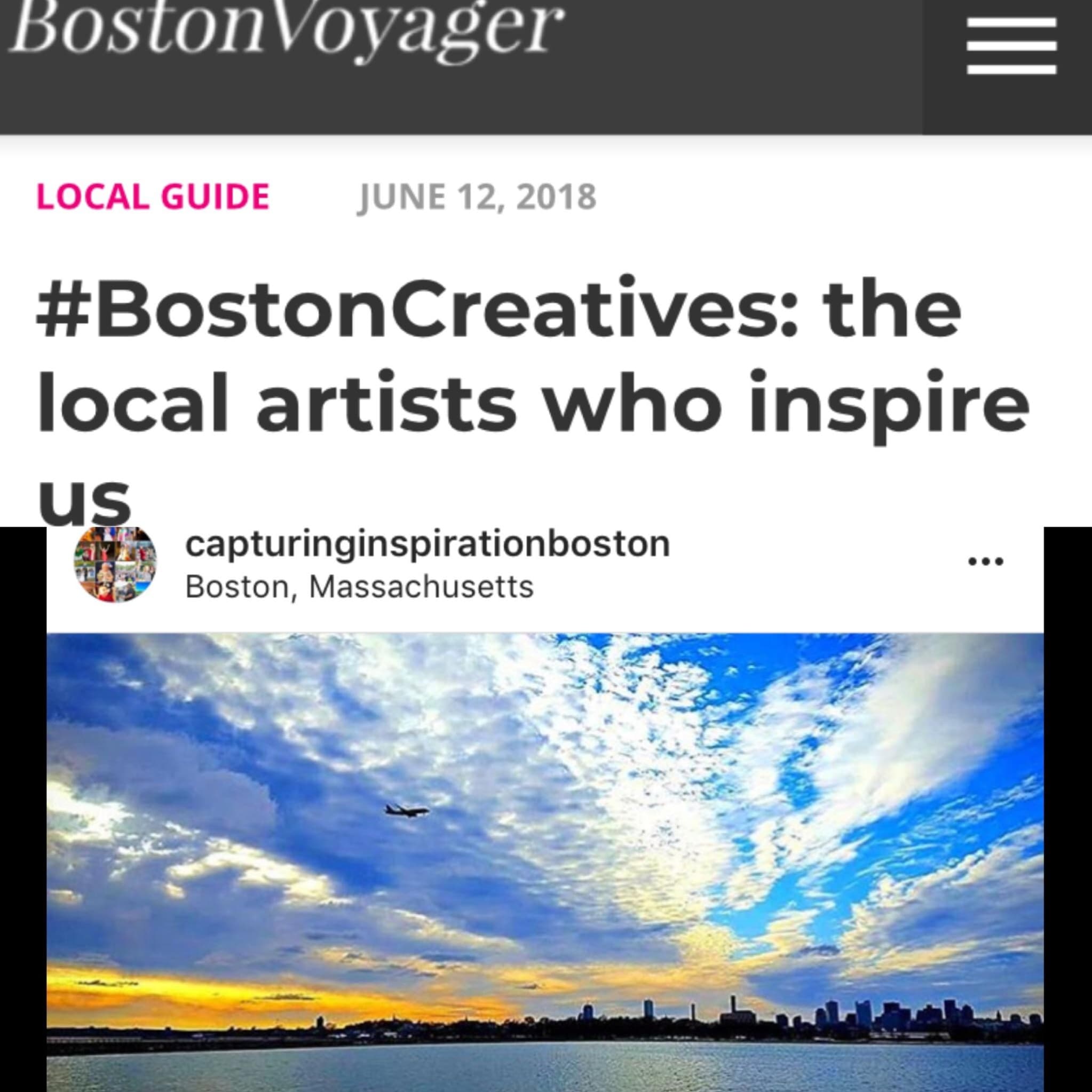 Local Artists who inspire us
The Boston Voyager Magazine published Moss Lynch, Proprietor of Capturing Inspiration, in their June 2018 issue as one of their, "Local Artists Who Inspire Us." This publication is part of their #BostonCreatives piece that spotlights local artists and businesses who are Inspirational throughout the City of Boston, Massachusetts.
The KNOT
The Knot is is an All-In-One Wedding Planning website that helps couples to create, plan, and carry out their dream weddings. The following photos are of two couples, Chelsea & Michael and Scott & Libby, who are tying the knot in the Fall of 2019. Capturing Inspiration was hired to shoot the engagement photos for Chelsea and Michael, as well as the surprise proposal of Scott to Libby. The photos are now featured on theknot.com. We are so happy for them!!
The South Boston Publication, Caught in Southie, wrote a feature story on Capturing Inspiration. Click the photo to read the article, or visit http://www.caughtinsouthie.com/features/capturing-inspiration-one-click-time/
Capturing Inspiration Credit on Social Media
Left Photo: On the Campaign Trail with Corey Dinopoulos, District 2 City Council
Center Photo: Community Yoga at LuLuLemon, Prudential Center, Boston with Kelly Charmichael
Right Photo: Mayor Walsh and Miller Family, Medal of Honor Park Playground Dedication Ceremony
Capturing Inspiration was featured in the July 27, 2017 edition of the South Boston Online newspaper from the Small Business Reception hosted at Capo South Boston on July 18, 2017. We are grateful that our local small businesses are able to collaborate and support each other.
See more at http://issuu.com/southbostononline/docs/sbol_07_27_17?e=9368187%2F51582041 Page 12
Dorchester Heights Association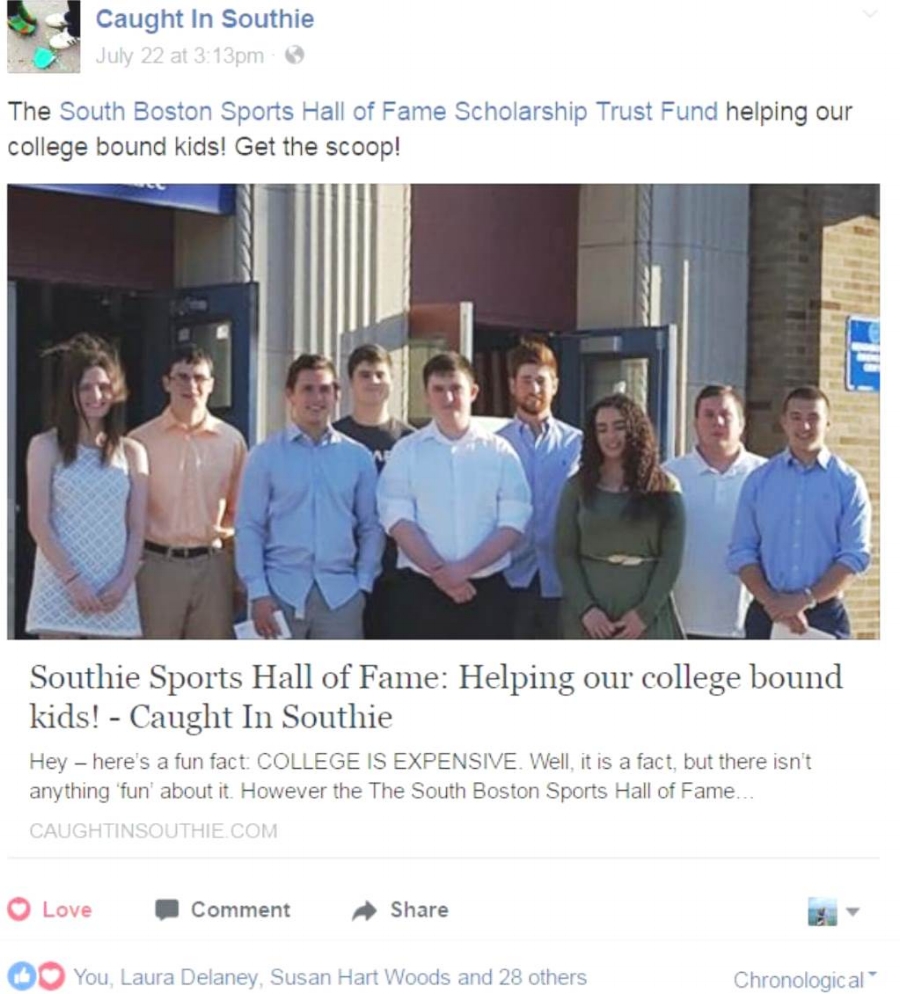 Capturing Inspiration had the opportunity to photograph the South Boston Boston Sports Hall of Fame Scholarship Trust Fund Award Ceremony in South Boston. Our photo of the award winners is the featured photo on Caught In Southie's Facebook page.